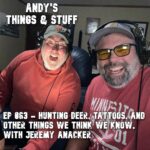 Jeremy Anacker is a husband, father, and giant late-in-life hunting nerd. We talked about the frustrations of the 2023 South Dakota deer season, hunting in general, beer and whiskey, and my first tattoo. And Jeremy got me to cry. We laughed a lot and had a blast!
Click here to see the photo of my dad's 1974 hunting license.
Click here to see the stamps on the back of the license.
SIOUX FALLS SHOOTING can help you learn to shoot, get better at shooting, or get your South Dakota Enhanced Carry Permit, and you will have fun in the process. Check out Andy's classes or book a private session by going to SiouxFallsShooting.com
Need your lawn mowed in Sioux Falls? MowSiouxFalls.com